i2r-A. 24(AXIOM AR8 UCCNC) 3HP HF SPINDLE INCLUDED CNC router (1220mm x 610mm) - TW - 8459.61.10.00
Freight Shipping Only Items
Freight Shipping Only Ballon
£

7.782,71
Included 20% VAT
£

6.485,59

excl. VAT
Location: Type Location Data
i2rA Small Format CNC Router
The i2rA CNC offers a wide range of machines to address nearly any CNC application. Each machine has been thoughtfully designed, rigorously tested, and offers a full range of accessories to ensure that you have everything you need to get up and running.
i2rA CNC Industrial 4-axis CNC Controller
Equipped with 3HP Electro Spindle with integrated Liquid Cooling System
Interlocking Aluminium Table
Precision Ball Screws
Prismatic Guides in all Axes
Auto Tool Touch-off Plate Sensor
Travel sizes | 610mm x 610mm | 915mm | 1220mm
UCCNC CONTROLLER
The StoneyCNC spec i2rA CNC Router for the European market is fully PC based controlled by UCCNC industrial controller and software. This PC based control allows for real time feedback of machine position to minimise mistakes. There is unmatched graphical user feedback to the operator. It is compatibile with a range of common CAM packages. Most importantly it is very intuitive operation for fast learning.
SUPPORTED LINEAR GUIDEWAYS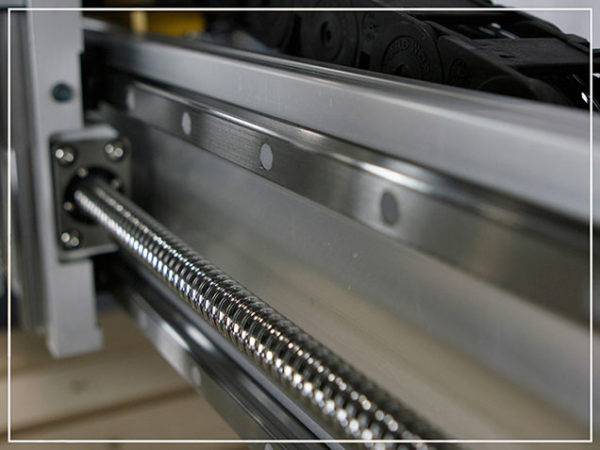 Our linear guideways utilise recirculating bearings between a prismatic rail and a bearing block. The coefficient of friction on our linear guides is only a small fraction of what is created by traditional round guides, and are able to take loads in all directions. With these features, our CNC machines achieve high precision and greatly enhanced moving accuracy.
CAST GANTRY SUPPORTS
Heavy components travelling at a high rate of speed generate high forces of inertia. The horizontal gantry support (located beneath the table), and the vertical gantry legs take the brunt of that force. Each gravity cast aluminium component is powder coated and engineered to be completely overqualified for their job.
STRUCTURAL STEEL FRAME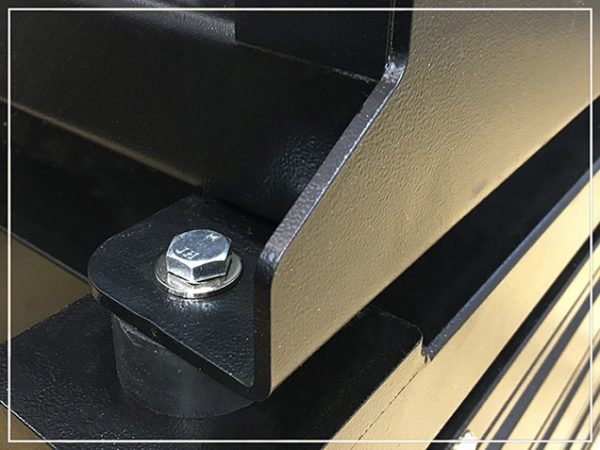 You wouldn't build a home on a compromised foundation… Nor should you build a CNC router on one. Our welded, structural steel frame is heavy, rigid, and accurate. It supports the weight of your i2rA machine with ease. It also offers mounting flanges in each corner to secure your machine to an optional i2rA stand, or your work surface.
INTERLOCKING ALUMINIUM TABLE
This is a seriously strong table. The massive 30mm thick extruded aluminium table provides a strong, flat surface to support your material. Integrated T-slots allow placement of hold-down clamps in any location, and a sacrificial MDF spoil board ensures that your table will always remain flat and damage free.
HIGH PRECISION BALL-SCREWS
Motion on every axis of every i2rA machine is controlled by high-precision ball screws. These ball screws utilise recirculating ball bearings to provide close tolerance and offer unmatched accuracy. Their ability to create low internal friction, while withstanding high thrust loads at high rates of speed, is paramount to the accuracy of each i2rA CNC machine.
HIGH TORQUE STEPPERS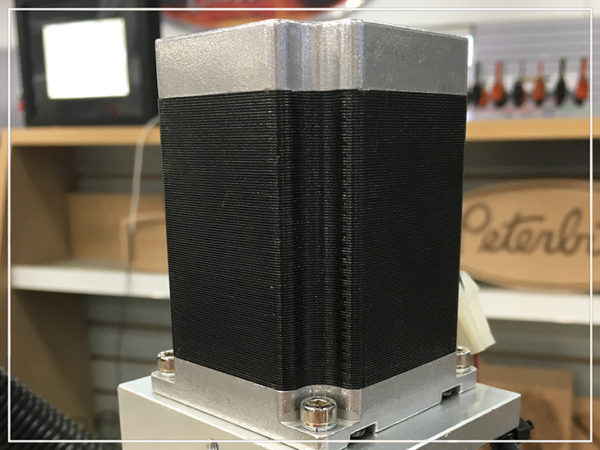 Each axis is controlled by a 57mm, NEMA 23 equivalent high-torque stepper motor. Each fast, device is rated for high duty cycles, and will provide thousands of hours of trouble-free precision.
INDUSTRIAL CONNECTORS
The performance of your machine relies upon accurate transfer of data to the stepper motors. Every wire connector found an an i2rA machine is of the highest quality available. Where available, we use aerospace quality components with metal body, copper terminals, and threaded locking rings.
ONBOARD COOLING SYSTEM
Every i2rA machine offers the option of a liquid-cooled electro spindle. Our innovative system replicates an automotive cooling system, where a high-volume pump pushes coolant (or antifreeze) through through the electro spindle, and dissipates the heat with a radiator and fan assembly. No buckets, no hoses, no aquarium pumps. No Drama.
CABLE TRACK CHAIN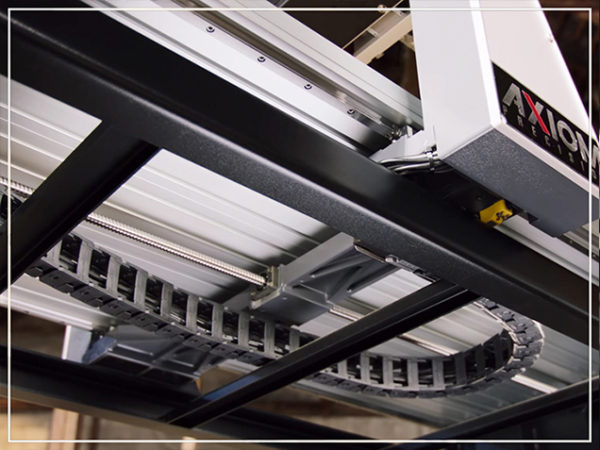 A loose bundle of wires almost always results in abrasion, stress and broken leads. Our power and data cables, as well as cooling hoses, are contained within lightweight, flexible nylon track chains to ensure that data is never interrupted by a broken wire.
TOOL TOUCH-OFF SENSOR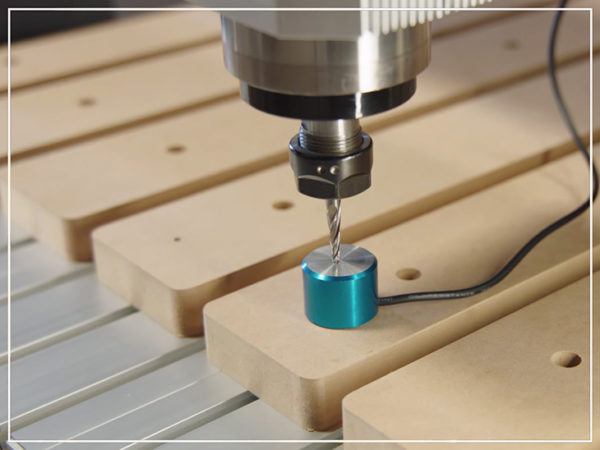 Each time you install a bit in your i2rA CNC machine, you'll need to accurately determine the length of the new tooling. Simply slide the tool touch-off device beneath the bit, initiate the 'Auto Touch-Off' command on your UCCNC interface, and the bit length will automatically be determined and stored in the UCCNC software.
PROXIMITY SENSORS
These magnetic sensors act as the CNC's eyes. They allow you to 'home' your machine so it knows where the spindle is in relation to the working envelope. Noticeably absent in many of our competitor's machines, these sensors prevent the gantry from colliding with the stops when you run it to the extent of its travel.

STONEYCNC after sales service
As an official OEM partner with the UCCNC developers we feel at STONEYCNC that a CNC system is far more approachable and easier to use when running on the UCCNC controller
The reliability of the i2rA CNC and the UCCNC controller are the perfect match!
At STONEYCNC we have an acute focus of customer service and support that is continuously evolving based on feedback from the field where our machines are working daily
The strength of our relationship with the UCCNC developers, together with the reliability of their motion controllers has been the key to providing exceptionally reliable CNC systems that are easy to use
An i2rA CNC system running on the UCCNC controller is running on years of our teams experience in supplying and supporting UCCNC controlled CNC routing systems
Every system we supply runs on the UCCNC controller and you are future proofing your investment for future upgrades
We can remote login and reconfigure any i2rA CNC system in less than 30minutes should you have any issues with your PC
Please note: Stand, and accessories are optional extras for this model
Attachments
Here you will find any attachments for this item. Click on the icon to download an attachment.
| | |
| --- | --- |
| | i2R A .24 - Dimensions |
2.2kW ER20 Spindle as standard
Aluminium Tslot table and MDF spoil board fitted
Vacuum table systems available
Stiff steel core carcass frame
Cast up-stands rigid and aligned by design
Inductive proximity sensors on XY and Z
Ballscrew drives on XY and Z
Supported linear rails on XY and Z
Full robust cable management system on XY and Z
Industrial controller fully supported on UCCNC
Ethernet connectivity between machine and control PC
5000mm/min XY travel rapid feed
Industrial electrical connections between machine and controller
Travel sizes | 610mm x 1220mm
Touch off puck included as standard
STONEYCNC i2r-A 2.4
i2r-A specifications
Travel in X axis
610mm
Travel in Y axis
1220mm
Travel in Z axis
153mm
i2r-A 2.2 = L 995 x W 950 x H 770 (mm)
Overall footprint
i2r-A 2.3 = L 1300 x W 950 x H 770 (mm)
i2r-A 2.4 = L 1600 x W 950 x H 770 (mm)
i2r-A 2.2 = 1070 x 990 x 840 (mm)
Dimensions when shipped crated
i2r-A 2.3 = 1347 x 990 x 840 (mm)
i2r-A 2.4 = 1651 x 990 x 840 (mm)
i2r-A 2.2 = 120 kg
Machine weights
i2r-A 2.3 = 135 kg
i2r-A 2.4 = 150 kg
Bottom of collet to T-slot table height
165mm
Rapid Feed rate
5000mm/min (83mm/sec) in XY
2000mm/min (33mm/sec) in Z
Spindle
2.2kW ER20 spindle as standard
Software Compatibility
Ethernet controller running UCCNC software
(Ethernet Connection to control computer)
Drive system Electronics
High power stepper motors
Limit and homing sensors
Inductive sensors running on 12V DC on XY and Z
Drive system
16mm Ballscrew drives on XY and Z
Thrust support
Double angle contact bearings preloaded at thrust end of Ballscrew support
Linear motion system
Profiled linear rails on all axes.
Cable management
Full cable management on all axes
Core components
Steel base | Cast Y cross member and up stands | Custom Aluminium extrusion bridge
Machine bed
T-slot table with integrated MDF spoil-board as standard
Tool length sensing

Configured for conductive tool touch off sensing

Touch off puck included as standard